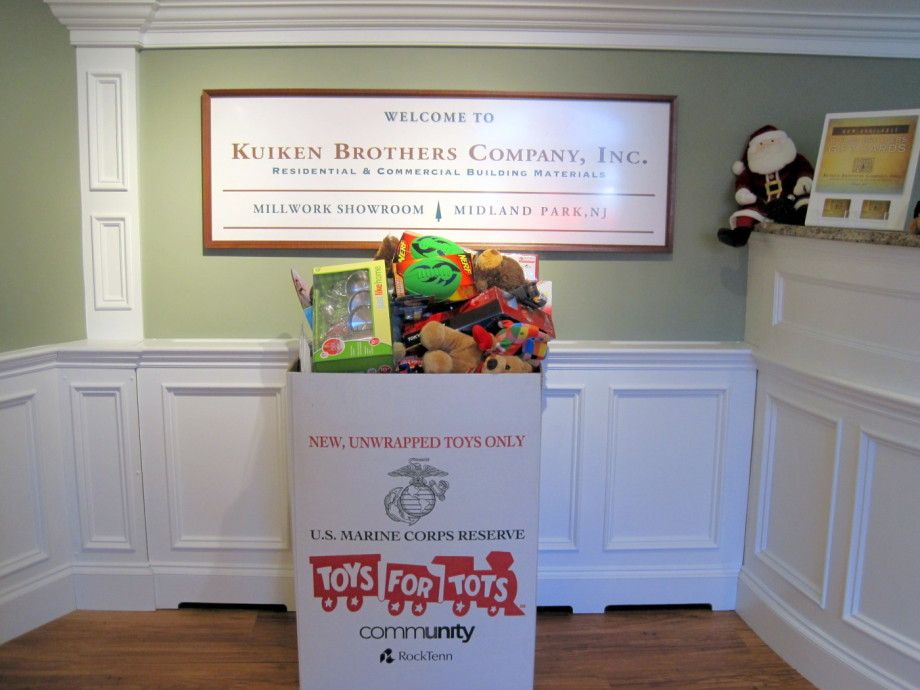 For the second year, Kuiken Brothers is proud to be a supporter of the U.S. Marine Corps Reserve Toys for Tots program. All 8 Kuiken Brothers locations have been set up with official collection boxes for Toys Tots donations. We are encouraging all of our customers and communities to stop by and make a donation of a new, unwrapped toy. All the toys collected will be distributed to needy children in our area this holiday season.
Kuiken Brothers locations will be collecting toys until Wednesday, December 10th.*
JOIN US FOR A SPECIAL EVENT – SUNDAY DECEMBER 14th – SUCCASUNNA MILLWORK SHOWROOM

In addition, Kuiken Brothers is honored to be hosting the Toys for Tots Operation Toy Train – Bonus Train Display again this year. The train will be on display at our Succasunna Millwork & Cabinetry Showroom 33 Route 10 East on Sunday December 14th from 10:00am – 4:00pm. This is the final and only full day train stop for Toys for Tots this holiday season. The train will be parked on the tracks at the front of the property, next to our Cabinetry & Millwork showroom which is visible from Route 10. At the end of the day the train will be bring all the toys collected to the U.S. Marine Reserve Unit at Picatinny Arsenal. The toys will be distributed to children in the North Jersey area for the holiday season.
The township of Roxbury will be in full force during the Toys for Tots event and train display. Joining us will be the local:
Police Department
Fire Department
Ambulance Corp
Girl Scouts (Daisies, Brownies & Juniors)
Boy Scouts
Kuiken Brothers showroom will be open with complimentary hot chocolate, cookies and hot cider along with face painting and photos with Santa and a US Marine Reserve. We encourage everyone to come out and make a donation and take part in this very special holiday event.
Despite a snow storm the day before last year's event, we donated over 1,500 premium toys to the program. Now that, is the true magic of the holiday season. Imagine what we could do this year!
Happy Holidays!
*Note: Our Warwick, NY location will accept donations until December 6th. On Sunday December 7th, Operation Toy Train's first scheduled stop is Warwick NY from 9:00am – 10:00am. All the toys collected in the Warwick area will be brought to the US Marine Reserve unit at Newburgh and distributed to needy children in the New York area.