Kuiken Brothers millwork partner, REEB Millwork offers an extensive selection of stile & rail as well as flush and molded doors as single door or pre-hung units at their brand new facility in Bethlehem, PA. What is even more impressive is their inventory levels of each of the series of doors shown in the two catalogs below. Please take a moment to review these catalogs. We're certain that referencing these in-stock options with your clients and team meetings with your architect partners will save a significant amount of times and last minute questions and finger pointing wondering when your door order will be showing up
Download the Catalogs
             
Click on either of the catalogs above to download the most current catalogs featuring readily available doors from REEB Millwork.
Interior Door Options – Refresher Course
We sell hundreds of interior doors each day, so it's easy to take our basic knowledge for granted and forget that not everyone thinks about the differences between stile & rail doors and flush & molded doors. Here is a quick crash course on what you should consider when choosing interior doors for your next new construction or remodel project.
Interior Stile & Rail Door Construction
For customers seeking a classic look, authentic stile and rail doors offer a level of detail and definition that cannot be matched. Stile and rail construction is architecturally correct and provides crisp shadow lines and highly defined panel details. Staining an interior wood door protects and enhances the natural beauty of real wood. Any door can be painted, however REEB stocks primed Stile and Rail doors that are specifically designed to take that one step out of your finishing process should you require.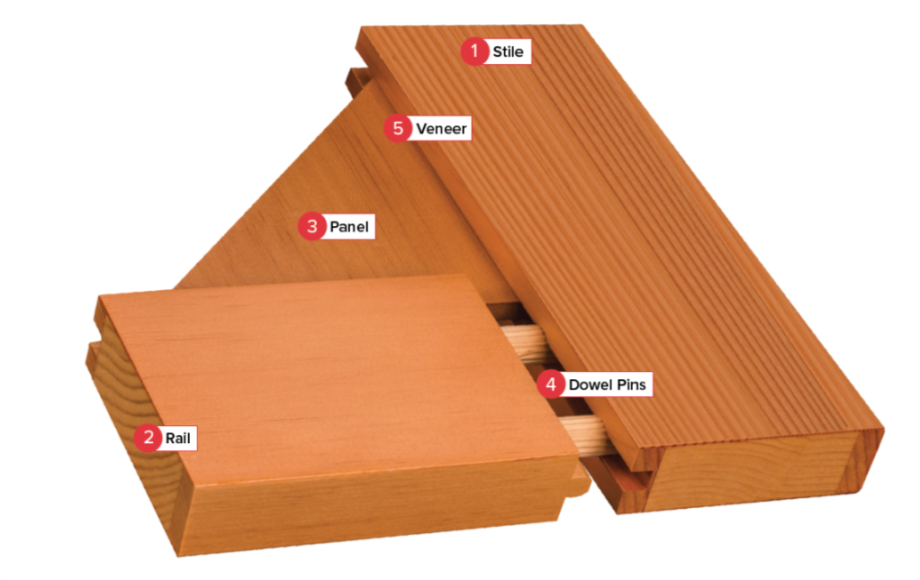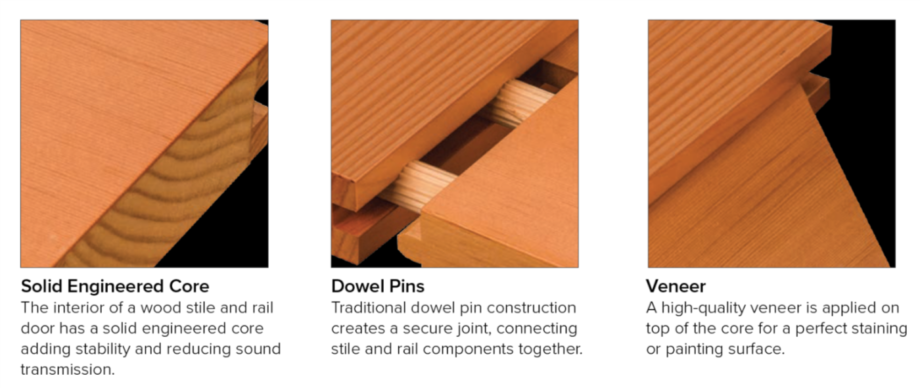 Here's a quick review of what we are looking at above that make up the quality construction of a Stile & Rail Door from REEB, Kuiken Brothers millwork partner of choice:
Stile: The stiles have a solid engineered core for added strength and stability
Rail: The rails are also made of solid engineered core
Panel/Glass: Panels can be wood to create a solid door, or replaced with glass to create a French door
Dowel Pins: Dowel pins are used to join the stiles and rails together
Veneer: A veneer is added over the core to create a smooth staining or painting surface
Molded Door Construction (Solid Particle, Hollow Core, Mineral Core)
Solid Particle Core molded doors are used in a variety of residential and light-commercial interior applications. The advantages of solid particle core construction are added security and reduced sound transmission while the heavier weight and feel is similar to a wood stile and rail. There are a number of smooth or textured surface options in stock.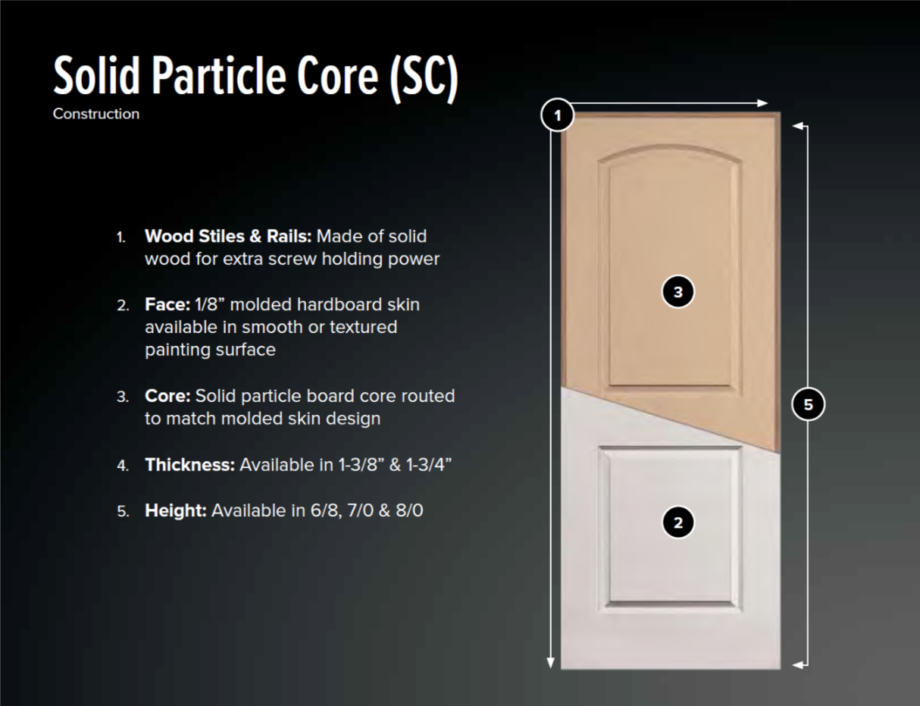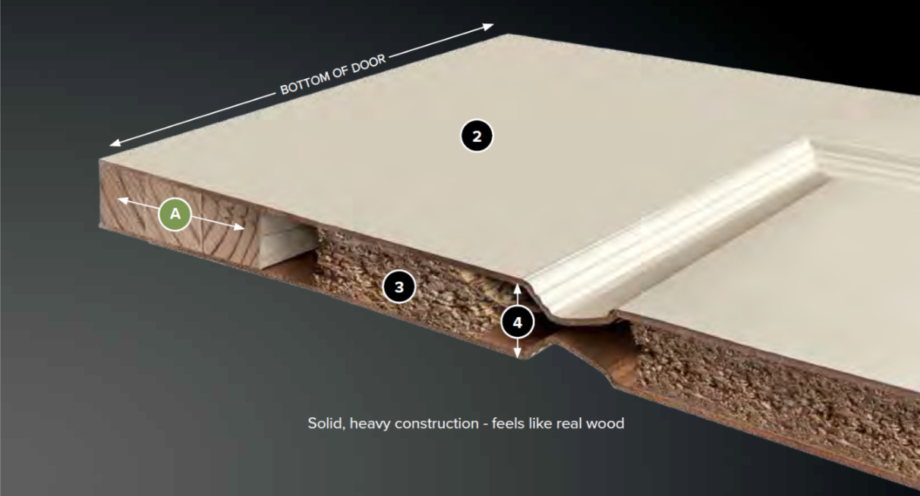 As you can see in the above cross-section, the Solid Particle Core door face features a 1/8″ molded hardboard skin available in a smooth or textured painting surface, plus, the solid particle board core is specifically routed to match the molded skin design, increasing rigidity. These doors are available in 1-3/8″ and 1-3/4″ thickness and heights ranging from 6/8, 7/0 & 8/0.
Hollow Core Door Construction
Hollow core doors are commonly used in residential applications where sound transmission and durability are not the primary concern. They are a lighter-weight, economic alternative to wood stile and rail interior doors. The standard offering includes wood stiles for added screw holding power and easy size reductions in the field. MDF and Fiber stiles are also available per request, although we encourage you to discuss some potential installation consequences with our millwork experts should you decide to go that route.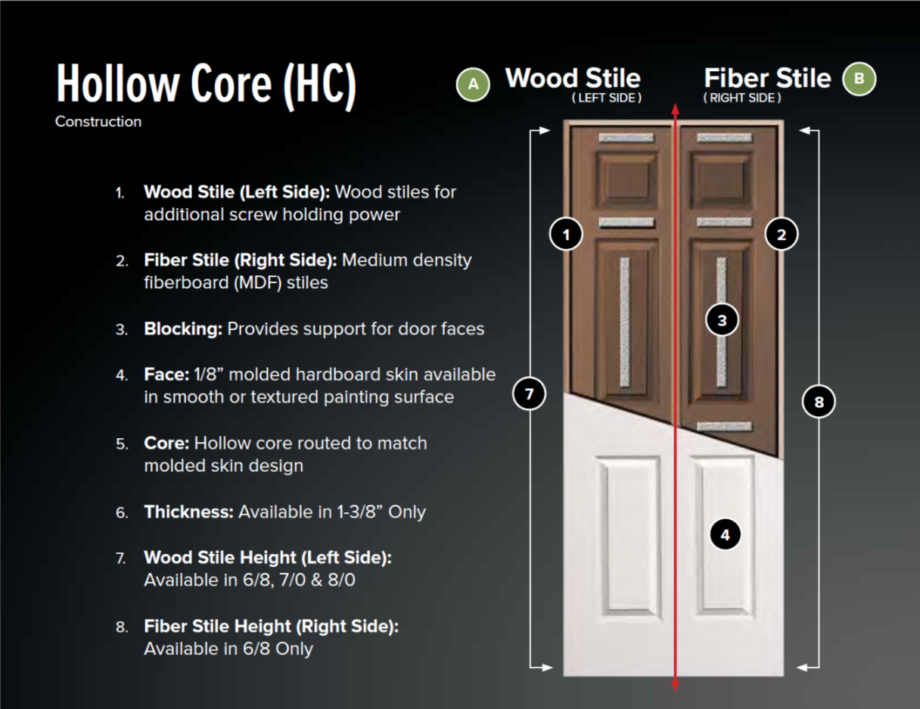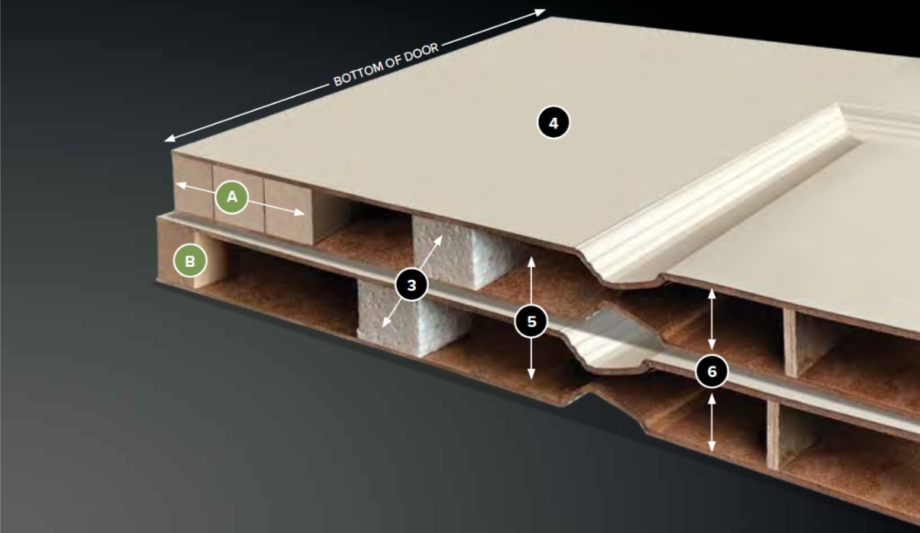 Similar to the Solid Particle Core, the Hollow Core Door face comes in a 1/8″ molded hardboard, smooth or textured painting surface. The foam blocking provides the support for the door faces and the thickness is limited to 1-3/8″ only.
Solid Mineral Core Door Construction
Solid Mineral Core Doors are commonly used in application that require up to a 60-minute fire raiting like house-to-garage entryways and light-commercial buildings. They have the weight and feel of a wood door and reduce sound transmission. They are manufactured with a special fire-resistant core and Firestop material allowing a fire rating of up to 60 minutes with certified frames and hardware.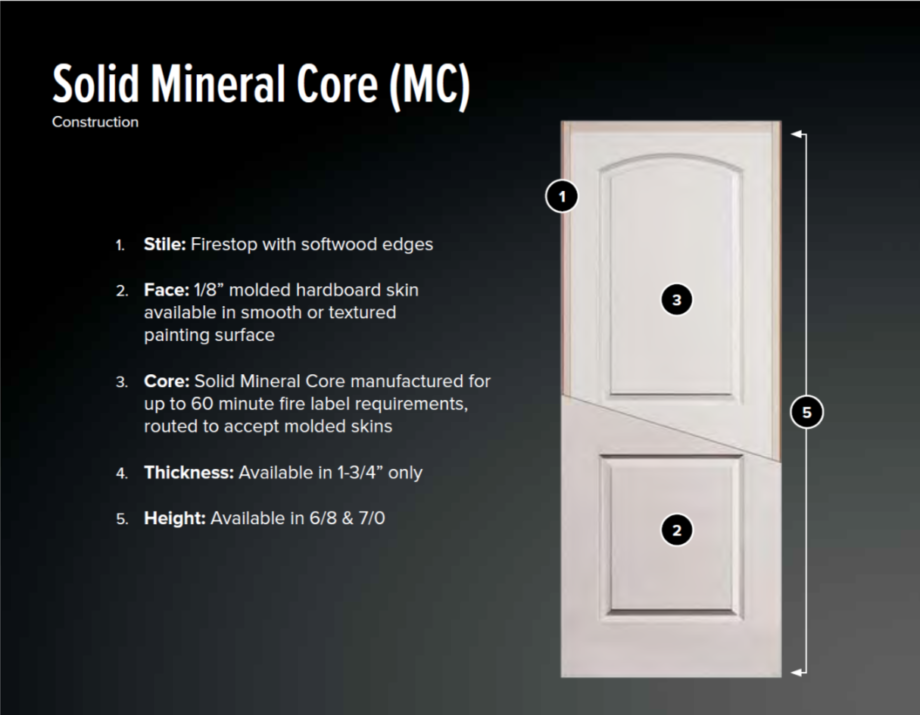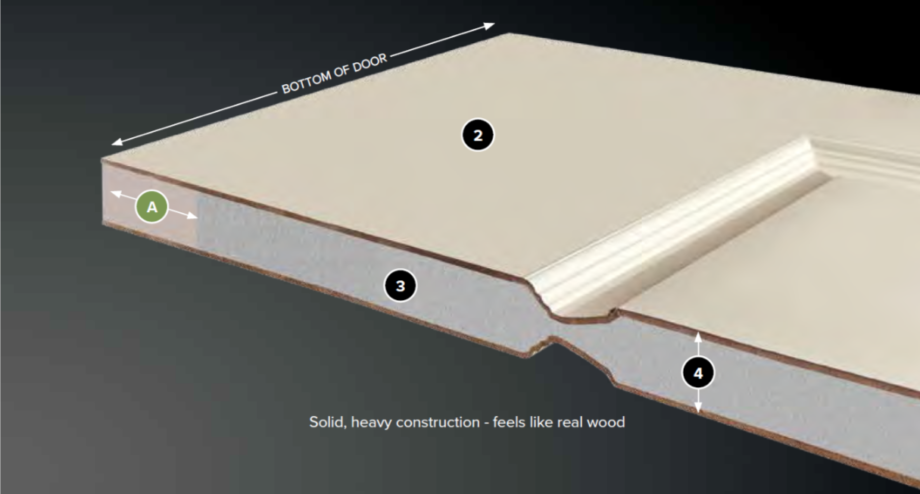 Solid Mineral Core molded doors are a popular choice for up to 60 minute fire-rated applications. As you can see, the face is a 1/8″ molded hardboard skin available in smooth or textured painting surface with a mineral core manufactured for up to 60 minute fire label requirements, routed to accept molded skins. It is only available in 1-3/4″ and heights of 6/8 & 7/0.
As you can see, the options can be a little overwhelming, and that is why the Millwork experts at Kuiken Brothers are here to help. Our team is extremely knowledgeable in understanding the application and providing the appropriate solution to meet your needs, whether it be budget, a specific look, or simply a deadline requirement.
About Kuiken Brothers Millwork Showrooms

Built with inspirational, lifestyle installations, Kuiken Brothers Millwork & Cabinetry Showrooms are the ideal location to meet with clients in advance of a project where a number of major decisions can be made. Allowing your clients to see, touch and operate a wide range of stock, semi-custom and full custom cabinets before they are installed creates a great space to help understand the clients goals, whether it is a price conscious project, or one that simply is required to achieve their dream and vision. This helps to set their mind at ease during the design phase, and simplifies the entire selection process.
No time to visit the showroom? Ready to get started? Well then hop on over to our Contact Us page and complete the on-line form. Tell us a little bit about your project in the Comments/ Questions field and we will have a Kuiken Brothers representative follow up with you right away. We look forward to working with you on your next project!