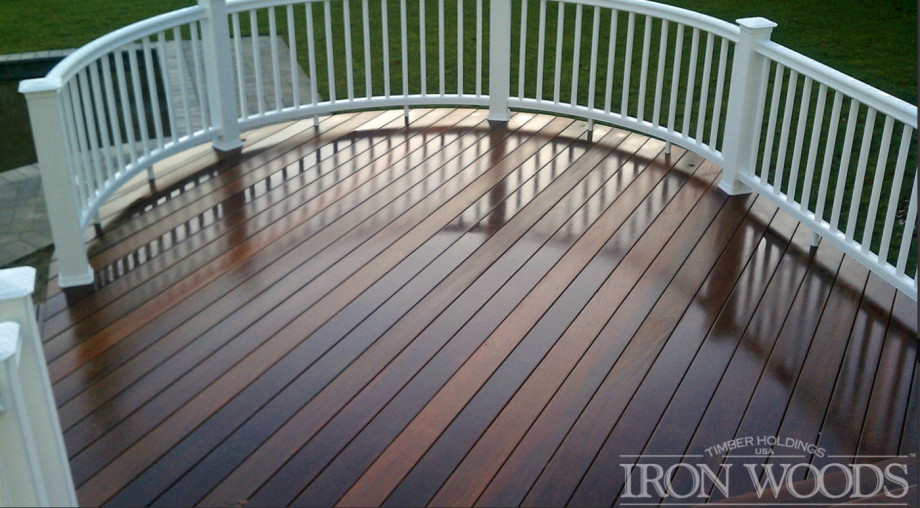 Kuiken Brothers is the largest stocking dealer of Iron Woods Ipe & Garapa Gold in New Jersey and can quickly and efficiently supply residential and commercial projects throughout the Tri-State area. While composite decks have become a staple request over the past 5 years, there are still many benefits to installing a natural wood deck, especially one that sets the benchmark in grade, quality and appearance like the Iron Woods line of products. Installing Ipe & Garapa Decking should not be overwhelming and is easily done by any professional carpenter. Below are a few tips and techniques to follow to ensure an efficient installation and minimize the risk of call backs in the future.
IPE & GARAPA INSTALLATION BEST PRACTICES
Cutting, Drilling, Fastening – Use carbide tipped finish cut saw blades and course open bits. Seal all ends immediately after cutting with clear aqueous wax based end sealer in order to reduce end checking. Holes should be drilled as far from the board ends as allowable to reduce end splits from over torque of screw heads. The use of high speed drills that maintain consistent drilling speeds (corded) along with course open bits.
End Sealing – It is recommended that an aqueous wax end be applied immediately after cutting to reduce end checking. Kuiken Brothers stocks Anchorseal.
Deck Spans – For residential applications, the live load requirement by most building codes is between 50 and 100 pounds per square ft. Based on this criteria Iron Woods® decking achieves minimal deflection at 16 to 24 inch stringer centers for nominal 1 inch (net .75 inch) thick decking, 24 to 36 inch stringer centers for nominal 5/4 inch (net1 inch) thick decking, 36 to 48 inch stringer centers for nominal 2 inch (net 1.5 inch) thick decking, 48 to 72 inch stringer centers for 3 inch (net 2.5 inch) thick decking and 72 to 96 inch spans for 4 inch (net 3.5 inch) thick decking.
Fastening – Not all fasteners are created equal. There are many fastening options and systems available in the market today. Whatever system you chose it is important to remember that once selected liability for fastening performance shifts to the fastener company, so consider your options carefully and follow the manufacturer's instructions. We leave it up to the installers to determine the methods on which they will stake their reputations.
End Matching and Butt Joints – For the best appearance we recommend routing the board ends with a 1/8'' radius. It prevents a hard edge from developing where the boards butt, similar to engineered wood flooring. Taking it one step further we have also seen contractors use biscuits or dowels to eliminate any potential for movement at the butt joints.
Stringer Spacing – When deciding stringer spacing there are other issues to consider beyond allowable deck spans.
For new construction with conventional decking and hidden fasteners we recommend 12'' stringer spacing. The additional cost of a few extra pressure treated stringers and some extra fasteners will significantly reduce decking trim waste while increasing the overall load capacity of the deck.
Ledger Joist and Stringer Flashing – Apply ledger joist and stringer flashing/membrane similar to Protecto Deck tape to eliminate the harboring of moisture at wood contact points and corrosive reaction between treated stringers and joist hangars. Follow manufacturer's instructions for product selection and application techniques.
Deck Ventilation – The importance of ventilation and air flow under and around wood decking in improving product stability and performance has been well understood. Adequate ventilation of the deck is essential for long term stability, durability and to minimize cupping. Air should always be allowed to flow freely from outside and under the deck.
To reduce the risk of cupping due to poor ventilation use 5/4×4 deck boards or deck tiles.
IPE & GARAPA FINISHING BEST PRACTICES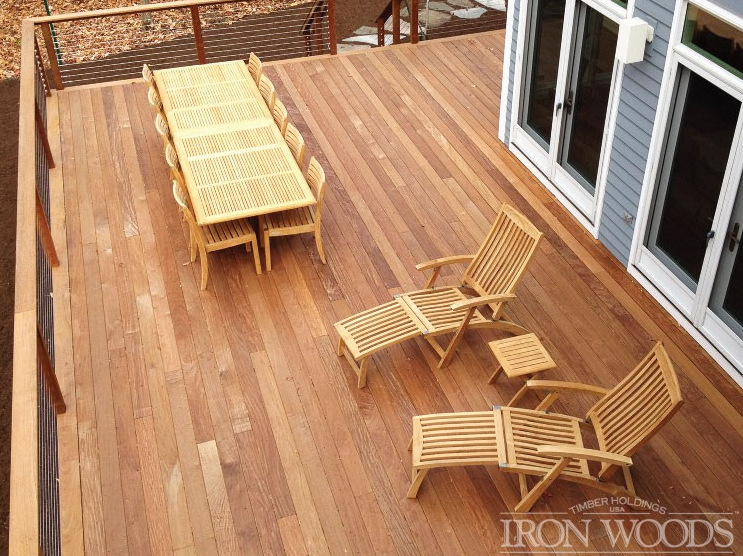 If you are sealing to maintain the color of your deck consider using cleaners from the same manufacturer as the sealer. Caution should be exercised when using Wood Brighteners containing Oxalic Acid, and only used if the deck will be refinished after brightening. Oxalic Acid converts lignin in natural wood species to sugar and can accelerate the mold process if left raw after cleaning.
Preparation, Finishing, Maintenance, Cleaning and Restoration – When specifying wood products for exterior construction it is important to have realistic appearance expectations. When used outdoors wood products will not retain the appearance associated with their use in interior applications like furniture or flooring. Wood will not hold its original color over time without cleaning and reapplication of finishes. Wood by its nature will be subject to some limited amount of natural reaction as it cannot be predicted how a natural product like wood will behave in any given environment or conditions.
New Deck Preparation- Always clean your deck using a Sodium Bicarbonate deck cleaner to remove dirt and debris from the wood surface. Follow the deck cleaning with an application of wood brightener to remove any stains or discolorations from weathering. Oxalic Acid based wood brighteners also improve finish penetration. Make sure you allow for wood to dry thoroughly before and between any and all cleaner, brightener or finish applications.
Natural Weathering – Left unfinished or over time without cleaning and refinishing, Iron Woods will weather naturally to a silver grey patina. A first coat on all faces prior to installation with an oil or water based finish is not necessary but recommended even if you intend to let the deck weather.
Finishing -To maintain natural color use high quality oil based outdoor finishes with UV inhibitor, fungicide and pigmented tint. Test finishes on decking to determine their compatibility and appearance. Before application, brush and clean decking surfaces to remove dirt, dust and other airborne contaminants. Iron Woods are dense, so apply thin coats allowing each coat to dry thoroughly or a sticky surface may result. Decking, pre-finished with a First Coat, may or may not, be available in your market. Check with your local dealer for availability of this service.
Finished Deck Maintenance – Mold and Mildew will grow on any surface on which a food source has accumulated. This includes plastic and glass surfaces. Mold or Mildew can be cleaned with deck cleaner containing Sodium Bicarbonate. Periodic cleaning and reapplication of finish (as needed), will enhance the appearance of your deck. The lowest maintenance approach we have found for maintaining finished decks is to treat them like you would a piece of furniture in your home. Simply clean your deck when it's dirty and wipe-on wipe-off a fresh coat of finish. That's the beauty of wood. It can always be restored to its original appearance.
Spotting, Staining, Discoloration and Weathering – From time to time we get calls asking about black spots that appear on wood decking. These spots are caused either by mold or by a reaction of iron with the natural tannic acid found in all wood. This type of black staining on the deck can be removed with wood brighteners. Generally they are supplied in a powder or a concentrated solution form and are mixed with water. Unlike PVC or Composite decking, even under the worst possible condition, a hardwood deck can simply be sanded just like a solid wood floor and restored to just like new condition by prepping them like you would a new deck.
If you are interested in Iron Woods Ipe or Iron Woods Garapa Gold for an upcoming project, feel free to give us a call at 201-652-1000 or fill out our online Contact Us Form (make sure you reference Iron Woods in the Comments/Questions field) and one of our sales representatives will follow up with you right away.