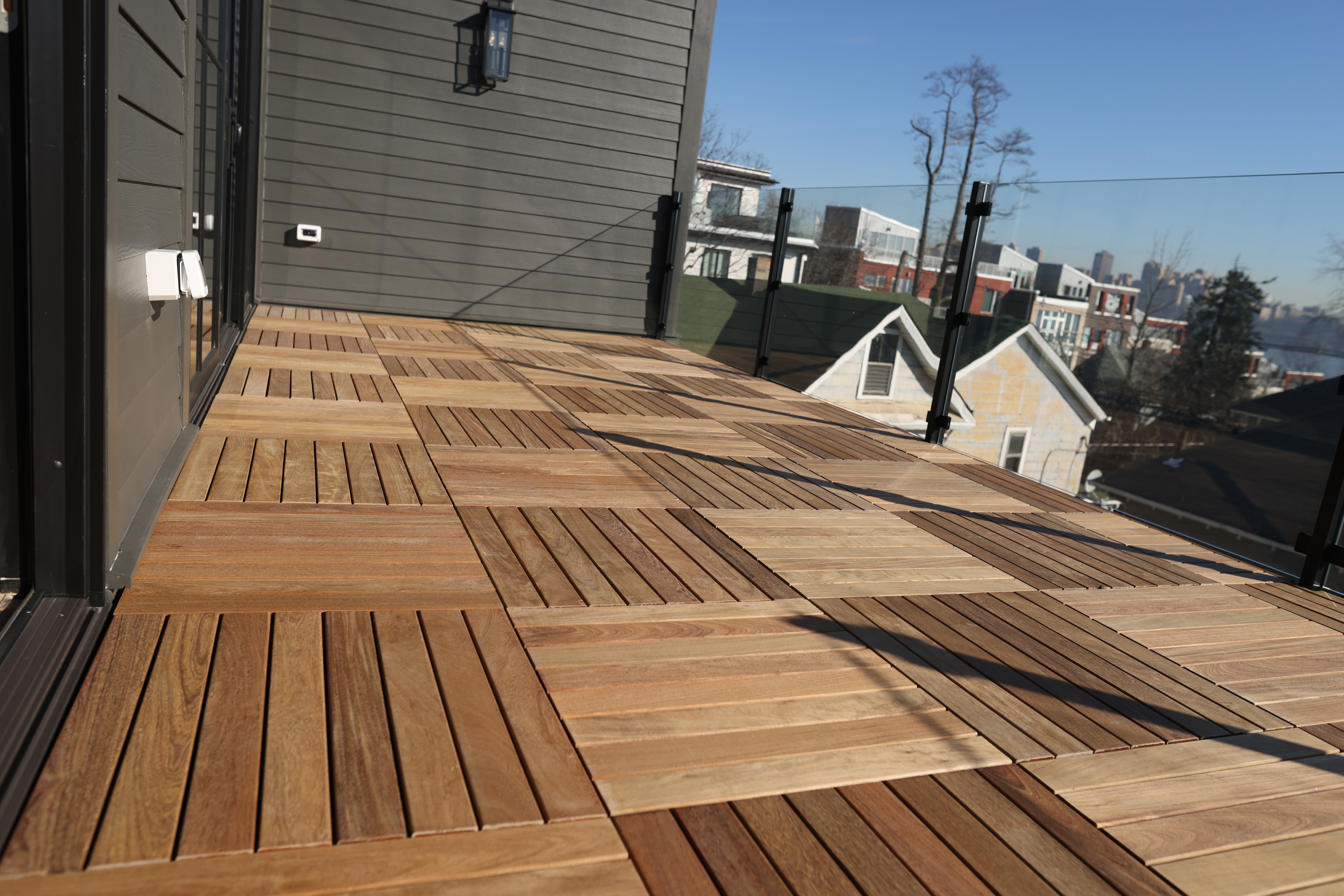 Kuiken Brothers is pleased to announce that we now stock Iron Woods Elevations Ipe Roof Deck Tiles at our Newark, NJ location. Check out some of the highlights of these 24″ x 24″ Ipe tiles, including the incredible pedestal system that makes leveling tiles a simple component of the installation for rooftop and residential decks.
Roof Decks and other poorly ventilated deck applications present a unique set of challenges for a designer and or builder. Iron Woods Elevations Deck Tiles were developed to provide a stable wood deck surface for poorly ventilated roof decks, they are the ideal solution for any deck construction where there is a lack of good ventilation.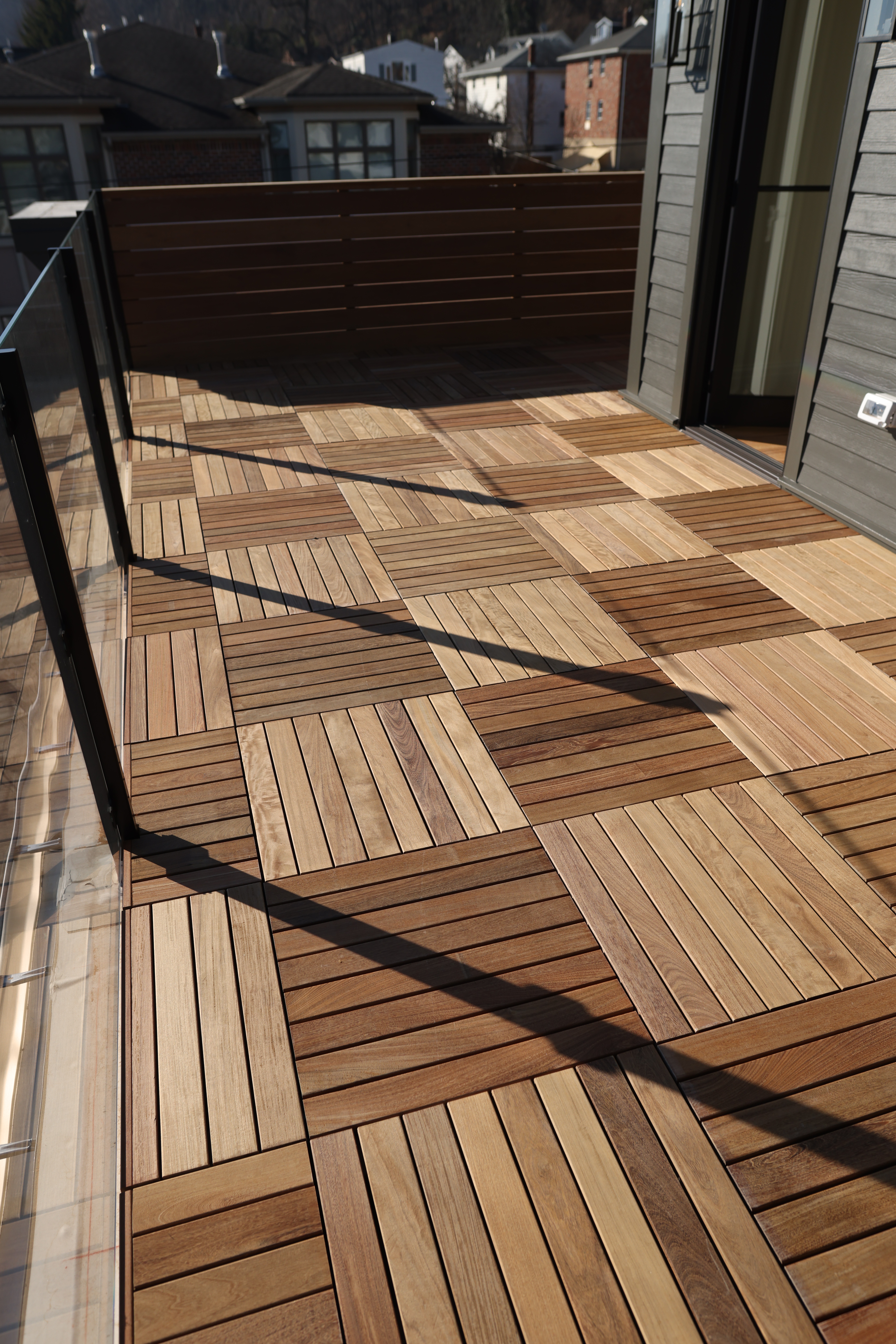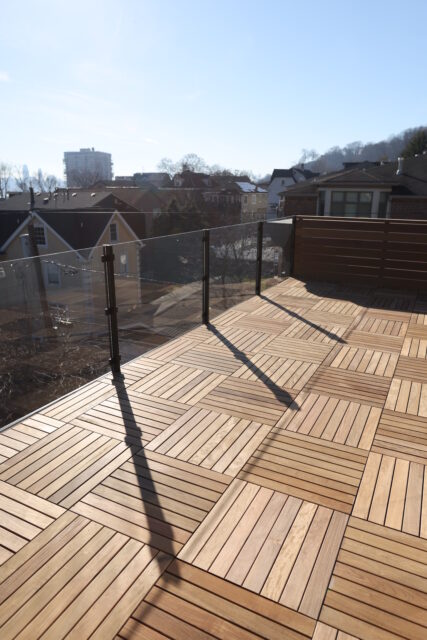 24″ x 24″ Iron Woods Ipe Deck Tile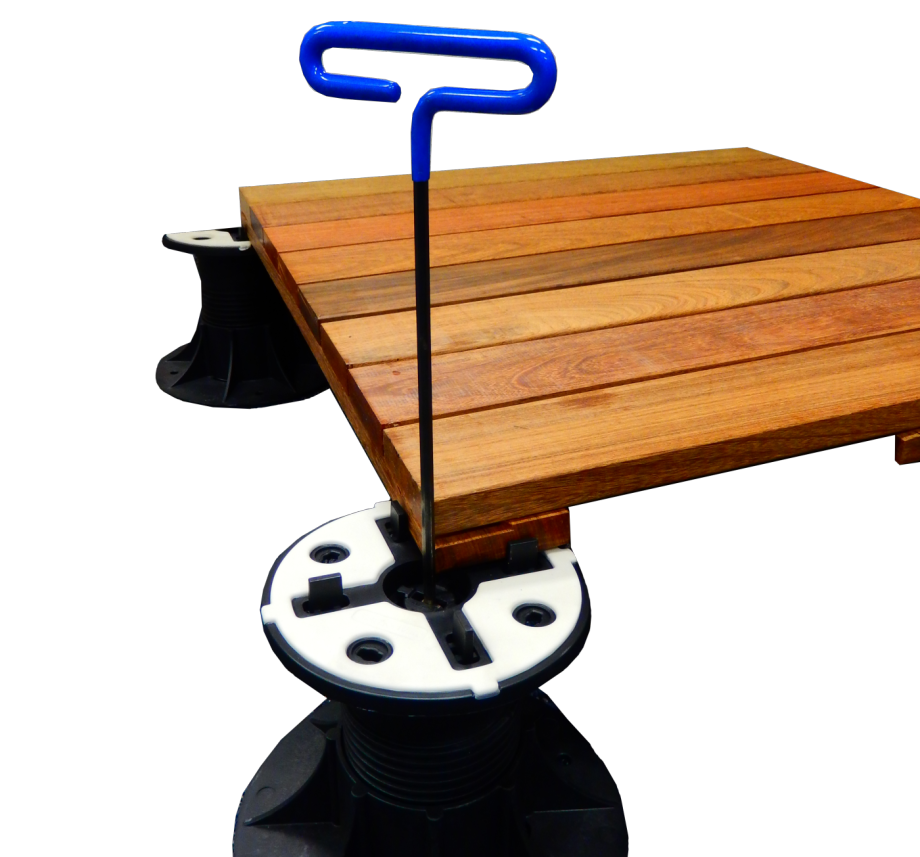 The pedestal system is engineered and purchased specifically for the individual rooftop deck project. Since there are so many different options and configurations, these pedestals do require an additional lead time.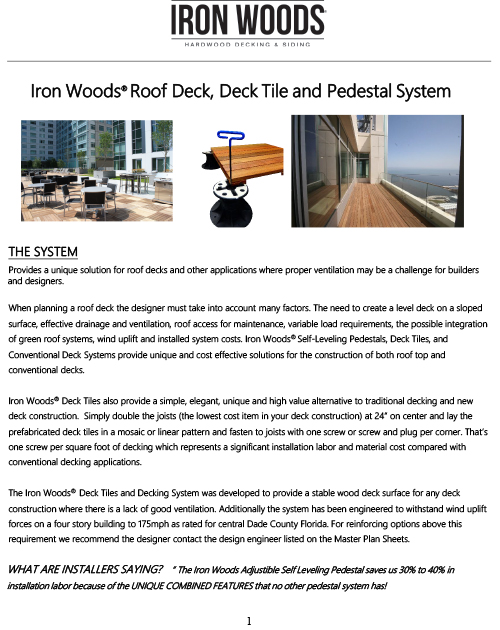 Download Iron Woods Elevations Roof System Installation & Best Practices Guide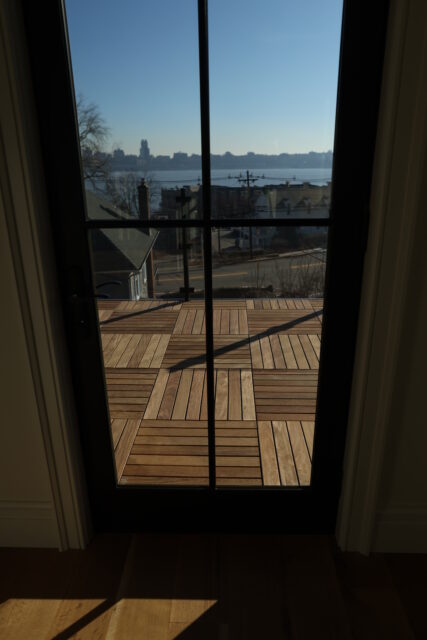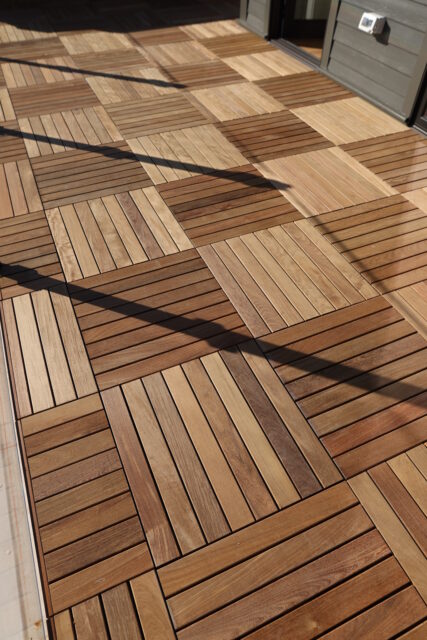 When constructing a roof deck the designer must take into account many factors. The need to create a level deck on a sloped surface, effective drainage, roof access for maintenance, typically poor underdeck ventilation, variable load requirements, the possible integration of green roof systems and installed system costs. Iron Woods Elevations Self-Leveling Pedestals, Deck Tiles, and Conventional Deck systems provide unique and cost effective solutions for the construction of both roof top and conventional decks.
Iron Woods Elevations Deck Tiles also provide a Simple, Elegant, Unique and High Value alternative to traditional decking to new deck construction. Simply double the joists (the lowest cost item in your deck construction) at 24" on center and lay the prefabricated deck tiles in a mosaic or linear pattern and fasten to joists with one screw or screw and plug per corner. That's one screw per square foot of decking which represents a significant installation labor and material cost compared with conventional decking applications.
How Can I Determine How Much It Will Cost?
Estimates
Estimating your project is simple. Just provide the square footage of the area to be covered, the lineal footage of the perimeter of the area to be covered and the style of tile or decking desired along with a live load requirement and we can generate an estimate.
Quotations
Quotations require some additional information. Minimally we require the square footage of the area to be covered, the lineal footage of the area to be covered, the style of tile or decking desired, the live load required, starting point from which tiles or decking will be laid, perimeter points and heights at 24 inch on center pedestal locations moving outward from the starting point, drainage points, slope lines, high point locations on a 24" grid, Any areas that are to excluded (not covered). Ideally we would like a drawing with a 24" on center grid pattern with pedestal locations with perimeter heights, drain or low point locations and slope lines. From this we can extrapolate enough information to quote. The information required should be provided in either a PDF, DWG File or Hand Drawing.
Design
Structural Design and Engineering of the Elevations Deck Tile System in application is the responsibility of others. It is the responsibility of the designer/owner to verify compliance with all structural design requirements and local building codes.
Orders
Upon order placement we will issue a material takeoff. If required an installation layout drawing that includes pedestal locations and component combinations can be supplied.
If you are interested in Iron Woods Elevations Deck Tiles for an upcoming project, feel free to give us a call at (973) 638-7200 or fill out our online Contact Us Form (make sure you reference Iron Woods in the Comments/Questions field) and one of our sales representatives will follow up with you right away.