Kuiken Brothers is pleased to announce that Mike Sloggatt and Rick Arnold from the Katz Roadshow crew will be presenting a private label event at this year's Product Expo. Gary Katz provides a quick overview of the event in the video below – check it out!
Seating is limited at these live building clinics so please RSVP in advance!

10:00AM – 11:00AM – Waterproof Doors
Sponsored by Therma-Tru & Huber Engineered Woods
Preparing the Weather Resistive Barrier: make the system work for you
Sill pans and water management: prevent air and water leaks
Installing pre-fit doors: tricks and troubleshooting techniques
Head flashing integration: modern flashing materials and sealants
11:45AM – 12:45PM – Window Installation & Interior Trim with KB Classical Moulding
Sponsored by KB Classical Moulding & Andersen Windows
Preassembly techniques and production shortcuts
Proper sill layout and proportions
Cutting the architrave and frieze
Cutting and assembling the crown
1:45PM – 2:45PM Long Lasting Decks
Sponsored by Boise Cascade & Trex Transcend
Ledger to wall connections: new codes, new techniques, new hardware
Stair Stringer Layout: a calculator and story pole for faster, better layout
Installing high-end decking with high-end strategies
How to make your work stand out: hidden fasteners combined with deck inlays
3:30PM – 4:30PM – Custom Kitchens
Sponsored by Merillat Kitchens & Kuiken Brothers Kitchen & Bath
Templates and story poles: increase productivity and reduce rework
Math made simple: layout for light fixtures, plumbing fixtures, tile inlays and backsplashes
Total control of the kitchen: plumbing and electric solutions
Installing base cabinets and upper cabinets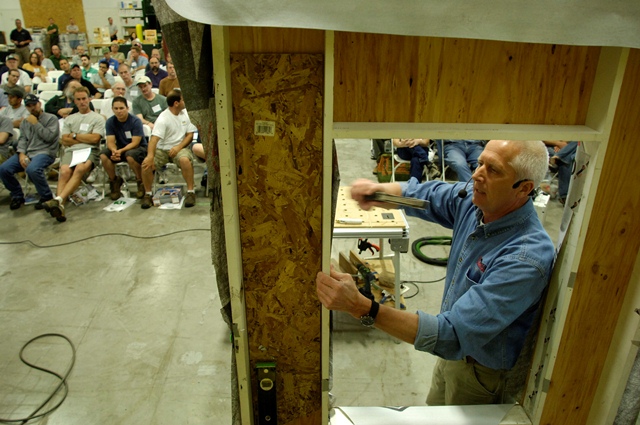 Seating is limited, so please RSVP in advance!

If you have additional questions about these LIVE Building Clinics at Kuiken Brothers Product Expo, please feel free to give us a call (201) 705-5390