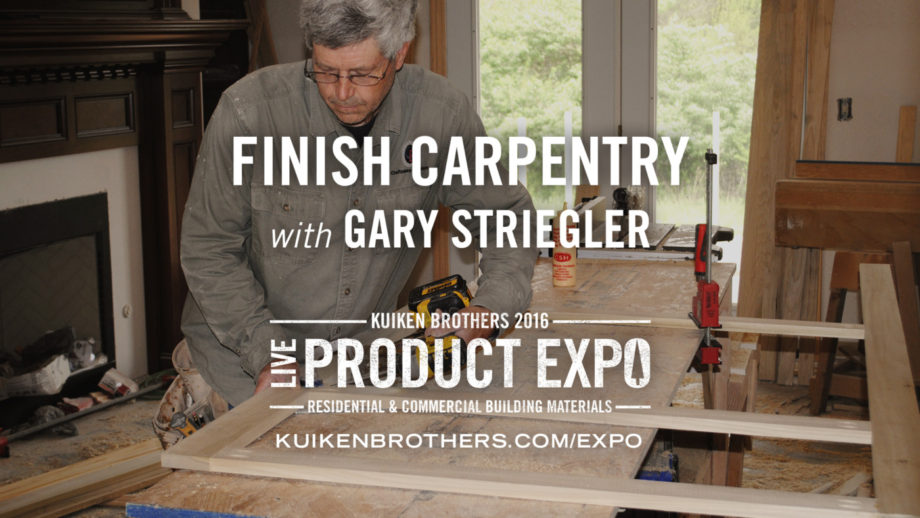 On Thursday November 3, 2016 Kuiken Brothers will be hosting our LIVE Product Expo in Mahwah, NJ. This complimentary event is open to building professionals (builders, remodelers, architects, designers) and their staff. We strongly encourage apprentice & next generation tradesmen attend this event as we offer free continuing education seminars, feature new products, best installation practices and, of course, food and beverages throughout the day. One of our featured installation experts is Gary Striegler – check out the schedule of events below!
Finish Carpentry with Gary Striegler
Please join us for a casual, yet informative day of finish carpentry installations with moulding & millwork installation expert Gary Striegler.
10am – 11:00am The Skills of a Trim Carpenter
This presentation covers my best practices for door hanging, trimming windows, cutting and installing crown molding and base board. It includes a section on getting the best cuts on your miter saw and miter saw safety. I also go over using a block plane to fit joints in trim and how to sharpen your block plane. It would be some power point but mainly demonstration.
12:00pm – 1:00pm Trim Details with Frame and Panel Construction
Most of the high end trim details that my company is known for are based on this technique. It is a simple three step process. 1. Assemble a frame out of solid lumber. 2. Staple plywood to the back of the frame. 3. Cut and fit panel molding inside the frame. I use the frame and panel method to, build mantels, make pilasters, wainscot details, newel posts and even create custom doors on site.
A pilaster leg for a fireplace is a great example of frame and panel work. By building one during the presentation I will: 1.Show the four steps to follow for making frames with pocket hole joinery. 2. How changing moldings or even modifying a molding can change the look of a project. 3. My tips for getting great joints when cutting and fitting molding.
I also like to cover other trim applications for pocket screws like jamb extensions, desk tops, shelf nosing stair treads, and wide glue ups. This is a short opening power point of examples but primarily demonstration.
2:00pm – 3:00pm Building Mantels That Make a Statement.
Just about every job has at least one fireplace. The mantel is always one of the focal points of the millwork package and a great place to build your reputation. This presentation will cover the general knowledge needed to build an attractive and code compliant mantel then get into the nuts and bolts of how to. Building a attention getting mantel may seem like an overwhelming task but it is really easy when you break it down into a step by step process.
4:00pm – 5:00pm The Basics of Built-Ins
Just about every construction project involves some cabinetry. A couple of generations back everything was custom built on site by the carpenters. As building became a high production business cabinetry was standardized and mass produced in large shops with special equipment.
Today many home owners want custom work not a one size fits all product. I may not put the large production shops out of business but I have found that building specialty cabinets can bring me a lot of work. Recently two display cabinets lead to several rooms of crown molding and a pair of French doors.
Cabinet work shouldn't be intimidating for any good trim carpenter. In this presentation I will show the steps from layout to building high end cabinet doors and trim details. Best of all most carpenters already own all the tools they will need. This is all demonstration. I would build a small sample cabinet during the presentation.
6:00pm – 7:00pm Top Twenty Trim Tricks
My favorite tricks that I use to make my projects stand out and build value into the client's home. Small details can make a big difference in the finished project and they don't have to add a lot of cost. Here are a couple of examples. Every job has some left over casing trim that can be used to frame the vanity mirrors. Bun feet are a popular look for cabinetry today. I have made some really good looking bun feet by mitering together four short pieces of scrap baseboard or casing.
In both new construction and remodeling referrals is the best form of advertising. These are twenty things that I have found really impress the people I work for. They can make the difference between having a happy client and one who can't wait to share their contractors name with a friend. This would be a power point with example demonstrations.
About Gary Striegler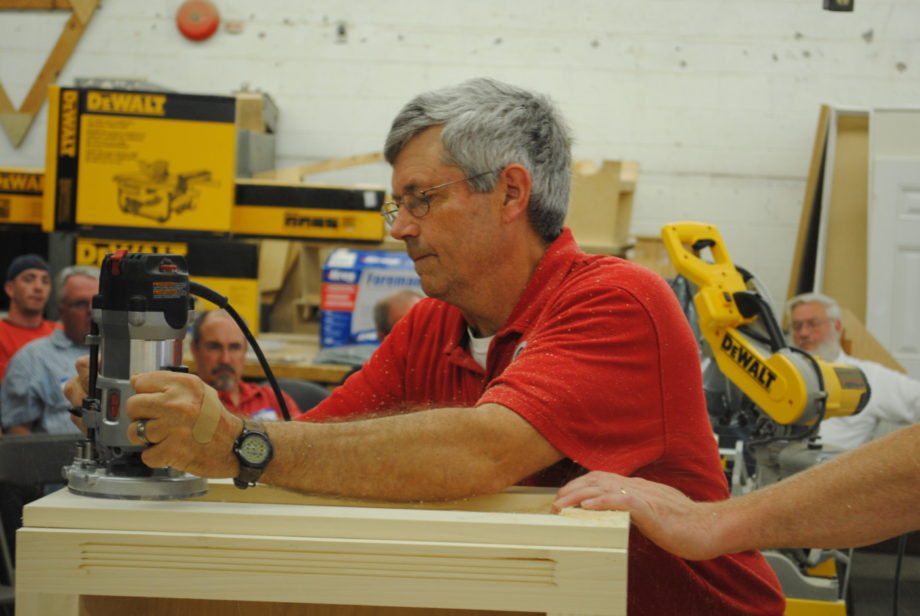 Gary Striegler is the president of Craftsman Builders Inc. He has been involved in the custom home building business for over 35 years. Gary is frequently published in Fine Homebuilding Magazine and The Journal of Light Construction, Tools of the Trade Mag. and ThisISCarpentry.com. Gary has made presentations at The JLC Live Show, Kitchen & Bath Show, International Builders Show and the IWF Show. Gary is the teacher in five digital download courses offered by Fine Home Building Magazine on trim carpentry topics and two DVD's for Kreg Tool Company.
Each summer Gary teaches at the Marc Adams School of Woodworking and he is a consultant for DeWalt, Grex Power Tools, Imperial Blades, Kreg Tools and Woodmaster Tools. Gary also enjoys volunteering for Mercy International in Honduras.

Save
Save