This post features content inspired by our friends at Marvin Windows & Doors

When embarking on a window replacement project, sometimes it seems as though window companies or replacement contractors are simply speaking a different language.
The first step to feeling empowered during the window replacement process is understanding the terminology, and we're here to help breakdown the complicated terms and industry jargon so you can be on a level playing field.
We've compiled a primer on some of the most uttered phrases during a window replacement project, replacing complicated terminology with simple explanations so you can understand the value of certain options, and know what questions you should ask from the get-go.
WINDOW TERMS DECODED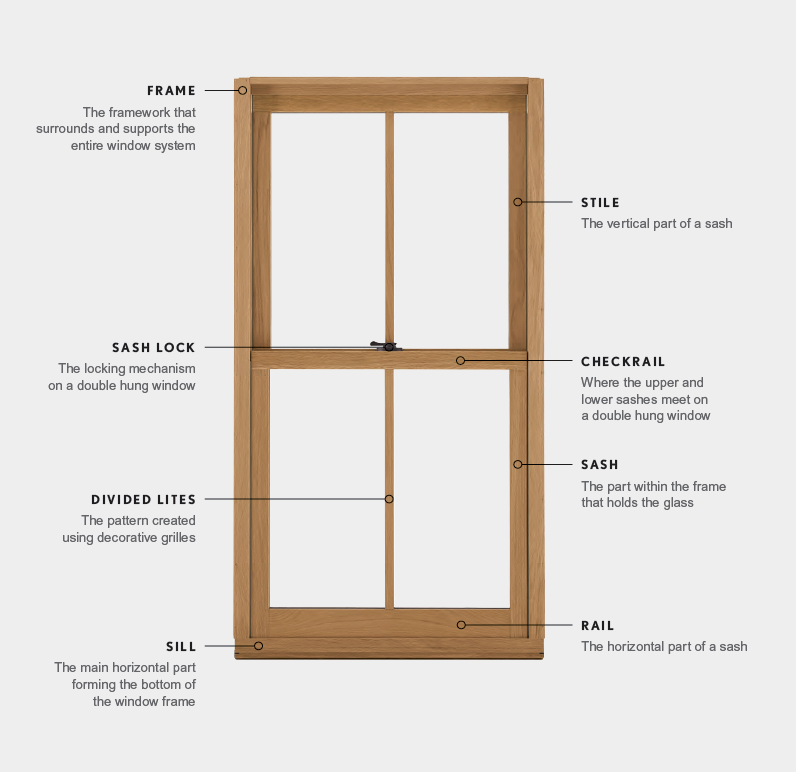 PICTURED:
1. Sash – What holds the glass in the window
2. Stile – The part that runs up and down each side
3. Rail – The part that runs across the top or bottom
4. Frame – Structure to put the sash in
5. Sill – The bottom part of the window frame
6. Checkrail – The middle part of a double hung window
7. Sash Lock – Located on the checkrail, a locking hardware
8. Divided Lites – Mimics the classic look of a double hung while offering a different type of window operation. These decorative bars are attached to the glass to create the look for a grid.
NOT PICTURED:
1. Egress – A point of exit
2. Weather Strip – A seal against water and air
3. Operable Window – A window that can be opened or closed
4. Stationary Window – A small window that doesn't need to open
5. Wash Mode – An ingenious invention for cleaning windows
6. Clad – Covered windows with a more weather-resistant exterior-facing material
7. Sash Limiter – When the Sash can only open about 4 inches, restricting how far a window can open.
PERFORMANCE AND OPTIONS TERMS DECODED:
1. Glazing – A fancy word for glass
2. Low-E – A coating to make your windows more energy efficient
3. U-Factor – How much heat is lost from your home
4. Solar Heart Gain – How much heat enters your home
5. Triple Glazing or Tripane – Three panes of glass with insulating air
6. Energy Star – Grades for efficiency
7. Window/Door Sensor – A solution to "did I lock that window"
At times it can be complicated, but you don't have to go through the process alone.
Come and meet with the experts at Kuiken Brothers! We have Marvin Windows & Doors factory trained representatives and incredible showrooms where you can simplify the window, door and mouldings in your millwork selection process.
Kuiken Brothers Showrooms were designed for builders, remodelers, architects and interior designers to utilize the space as an extension of their business. Creating a showroom and maintaining it with the latest trends is a significant investment which we are proud to make to help support your business. If we can do anything to help you spend less time in the office and more time on the jobsite with your clients, it is well worth the investment to Kuiken Brothers.
We hope to see you soon, whether you are looking for inspiration for your dream project, or right in the middle of a project and need to make quick product decisions and selections. We hope to see you soon!
Find a Kuiken Brothers Millwork & Cabinetry Showroom Near You
Click here for a list of Kuiken Brothers Locations
Typical Showroom Hours:
7am – 5pm Monday through Friday
8am – 12pm Saturday
Closed Sundays
Please feel free to call in advance to ensure a specific product that you are looking for is on display. Our showrooms are in close proximity to one another, so if one showroom does not have a specific product on display, chances are we can direct you to a local one that does. For a list of phone numbers, click here.