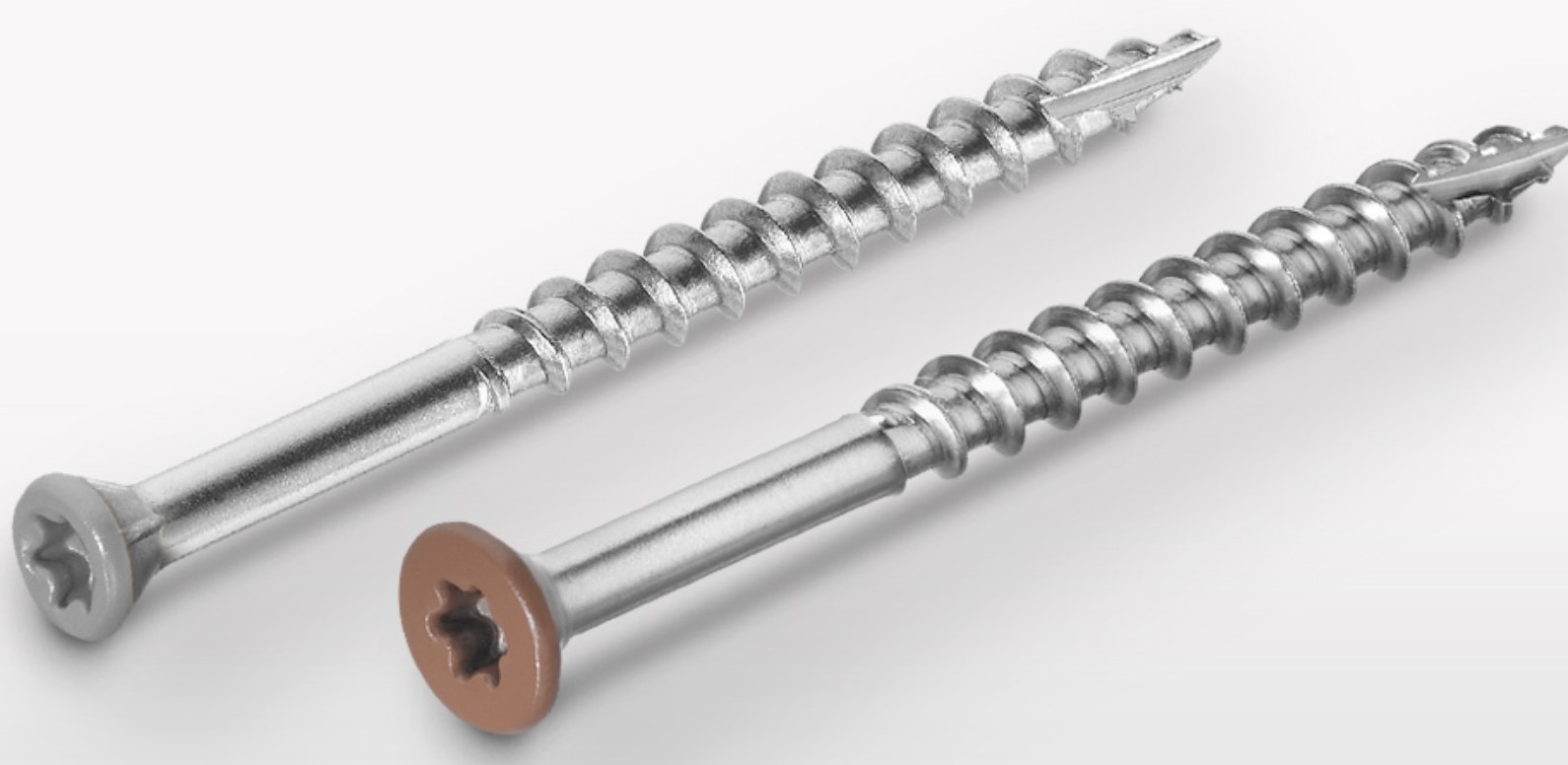 Headcote 305 and 316 screws are designed to blend with all types of wood decking, including cedar, ipe, mahogany, and meranti. These premium quality deck screws feature extra deep star drive recesses, type 17 auger tips, and trim or reinforced flat heads. Headcote screws are available in both Grade 305 and Marine Grade 316 stainless steel for superior corrosion resistance. They are also available collated for use with the Muro Ultra Driver tool. Headcote 305 and 316 screws match the profiles of Smart-Bit Pre-drilling and Countersinking Tools. For materials that require pre-drilling, especially hardwoods, this product combination makes it easy to achieve a clean and professional finish.
Below is a list of the recommended color matching screws for all of Kuiken Brothers in-stock Trex Decking boards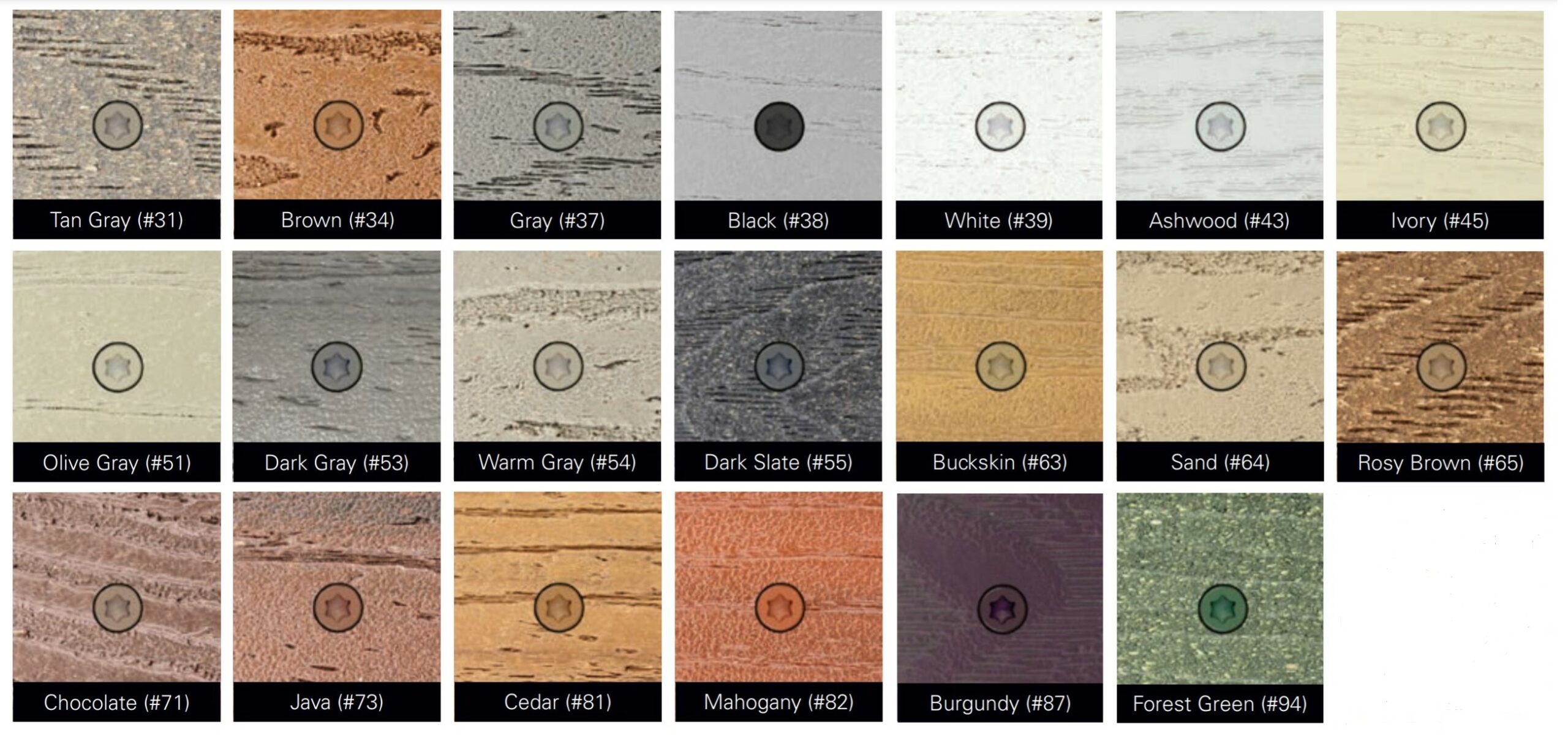 Trex Beach Dune – Rosy Brown #65
Trex Clam Shell – Dark Gray #53
Trex Coastal Bluff – Chocolate #71
Trex Foggy Wharf – Ashwood #43
Trex Gravel Path – Warm Gray #54
Trex Havana Gold – Rosy Brown #65
Trex Island Mist – Dark Gray #53
Trex Madeira – Burgundy #87
Trex Pebble Grey – Gray #37
Trex Rocky Harbor – Warm Gray #54
Trex Rope Swing – Sand #64
Trex Saddle – Brown #34
Trex Spiced Rum – Java #73
Trex Tiki Torch – Cedar #81
Trex Toasted Sand – Tan Gray #31
Trex Vintage Lantern – Chocolate #71
Trex Winchester Grey – Dark Slate #55
Trex Woodland Brown – Java #73
Additional features and benefits for the Headcote can be found below.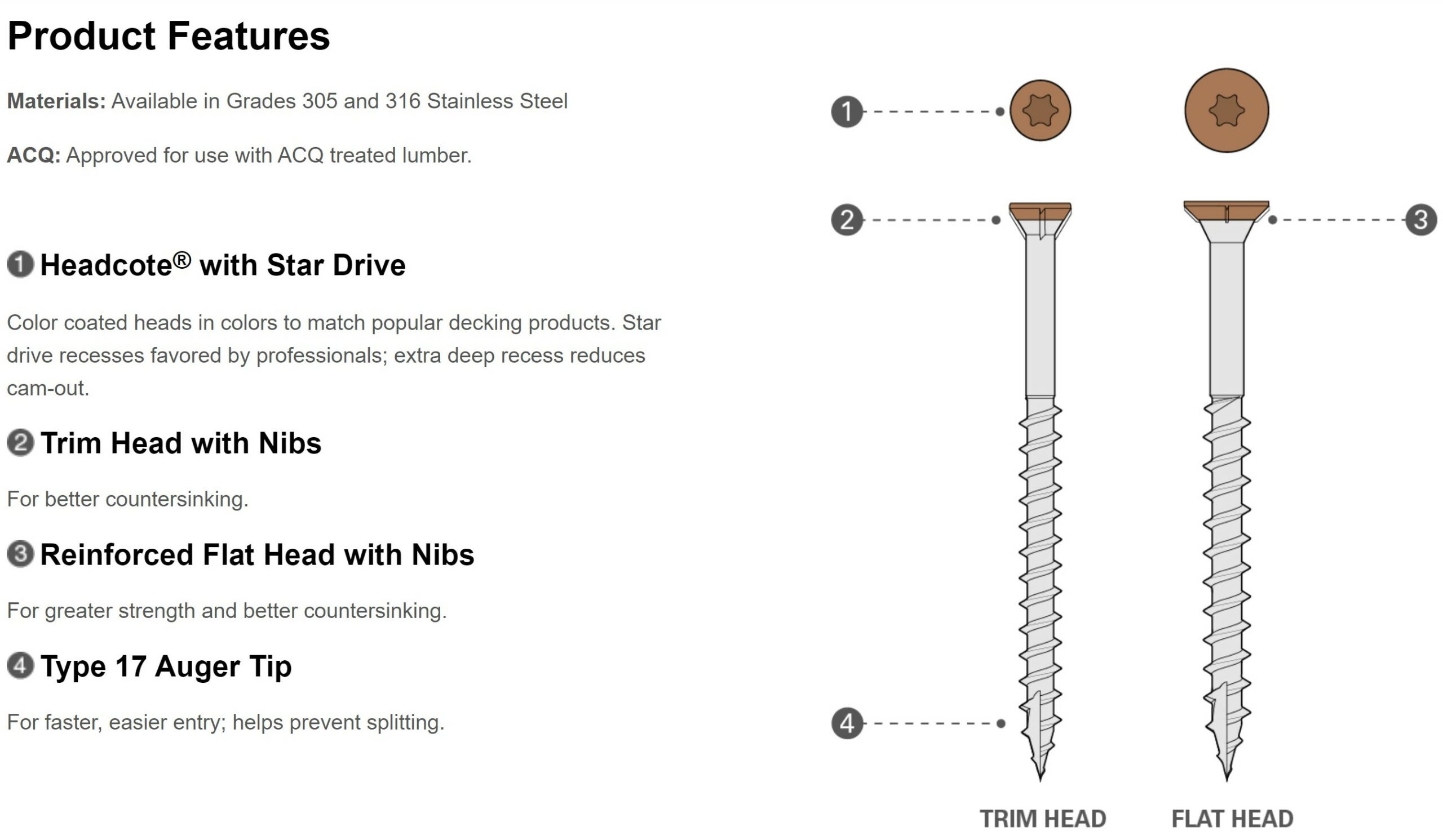 If you have an upcoming project where you are looking to color match your Trex Decking boards, contact the team at Kuiken Brothers and ask for Starborn's Headcote Deck Screw. We'll make sure that you get exactly what you need and also discuss the additional materials whether you are building a new deck or resurfacing an old. Feel free to complete the CONTACT US form on our website, or give us a call (201) 652-1000 and one of our representatives will follow up with you right away.