New wallboard technologies and an increased demand for high-performance homes are fundamentally changing the way that building professionals select products for residential construction. To capitalize on this growing movement, builders can now access interactive selling tools with the CertainTeed Wall-to-Wall Solutions iPad mobile app.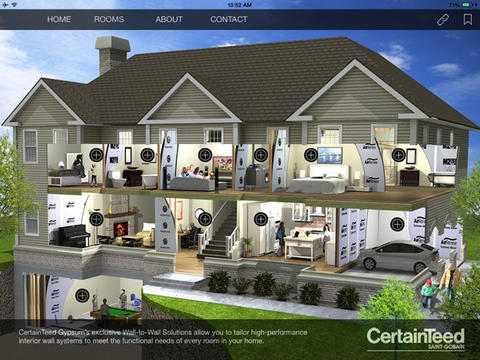 The app, which can be downloaded via the iTunes store, allows users to easily navigate through specific areas of a home to better understand how the right wallboard products can enhance the longevity and performance of a home.
"Since most people spend about 90 percent of their time indoors, the quality of that environment is extremely important," adds Day. "With a competitive residential construction market, we wanted to provide builders with meaningful, value-add features to achieve the best indoor environment possible."
Here is a quick review on the various options available from CertainTeed that the Wall-to-Wall iPad mobile app will help you showcase to your clients:
AirRenew IAQ Gypsum Board –
For a healthier environment in nurseries, bedrooms, living rooms, or throughout the home,  AirRenew actively improves indoor air quality by absorbing formaldehyde, the most common volatile organic compound (VOC) and a harmful pollutant found in indoor air.
AirRenew Extreme Impact Gypsum Board
AirRenew Extreme Impact best aligns with the performance requirements of a garage, where walls might take a beating from car doors, tools, and sporting equipment.
Silent FX Noise-reducing Gypsum Board –
When Silent FX is installed in a home theater room, the sound transmission between rooms can be reduced by up to 90 percent — ensuring that late night TV watching does not impact family members in adjacent bedrooms. The product also meets the demand for improved acoustical control due to increased prevalence of open plan concepts and centrally located laundry rooms.
M2Tech Gypsum Board
In high-humidity areas, such as bathrooms or kitchens, M2Tech Gypsum Board will help protect against moisture and mold.
If you would like more information on CertainTeed Gypsum for one of many applications, feel free to give us a call, fill out our Contact Us Form, or visit us at one of our locations in NJ & NY. One of our sales representatives will follow up with you right away. We look forward to working with you on your next project.