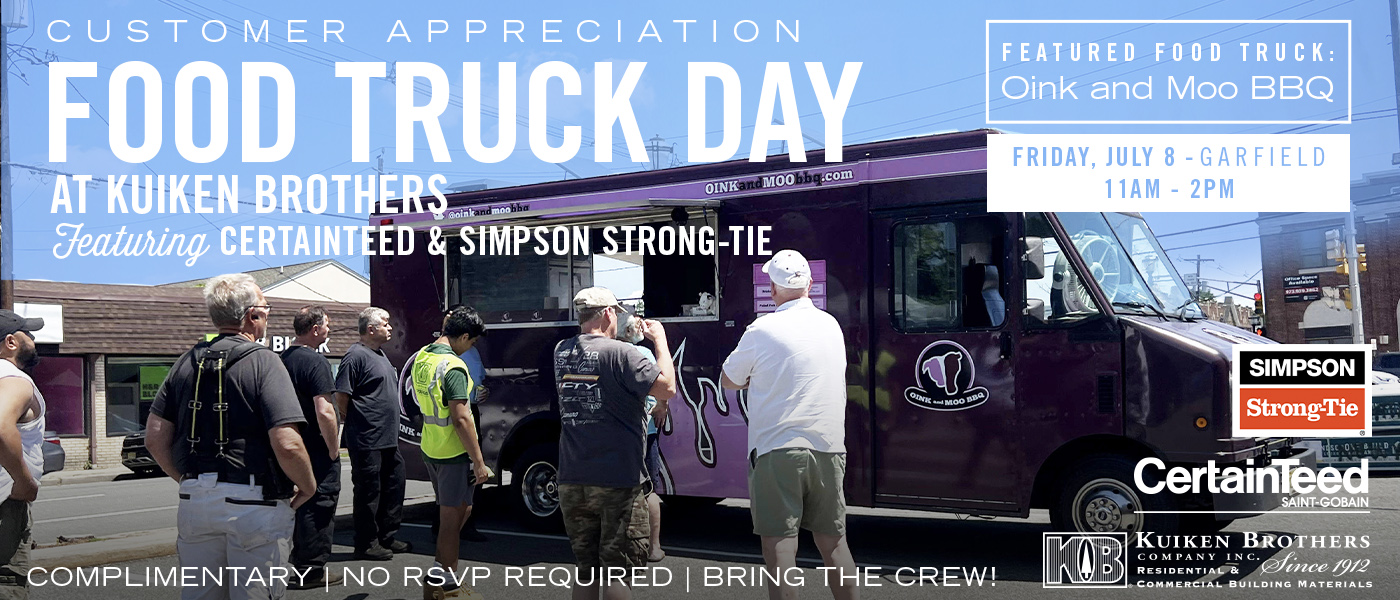 JOIN US Friday, July 8th 2022! Kuiken Brothers would like to say THANK YOU and request that you join us as we will be hosting our partners at CertainTeed and Simpson Strong-Tie for upcoming LIVE Demo Days featuring a food truck favorite, Oink and Moo BBQ at our Kuiken Brothers Commercial Building Material location in Garfield, NJ. We invite you to stop by and spend some time to learn about new products in stock.
Who Should Attend: Installers, Estimators, Project Managers & Supervisors
Kuiken Brothers is pleased to announce that we are now stocking the new NextGen grid from CertainTeed, which we are certain will save you time and money during your next installation.  With input from contractors and field installers, CertainTeed has redesigned their family of acoustical suspension systems to create a complete grid solution which is quicker and more efficient to install.
Also, make sure to check out their QuickSpan system:
Who Should Attend: Installers, Estimators, Project Managers & Supervisors
Cost: This is a complimentary event.
If you are unable to attend but would like more information on CertainTeed's New NextGen Suspension System, please give our Commercial Building Material specialists a call (973) 638-7200 or fill out our on-line Contact Us Form and we will follow up with you right away. We look forward to working with you on your next project.
Why attend one of Kuiken Brothers LIVE Demo Days?
Each year, Kuiken Brothers hosts hundreds of LIVE Installation and Product Update events where we feature new products and efficient installation techniques directly from manufacturer representatives. Whether you are an experienced builder craftsman or just an apprentice learning the trade, we invite you to stop by. We understand that our industry learns by seeing, touching and feeling the products, not just by reading about them online and in magazines. These events are free to all of our customers, so come join us today! Visit www.kuikenbrothers.com/demodays for the complete schedule.