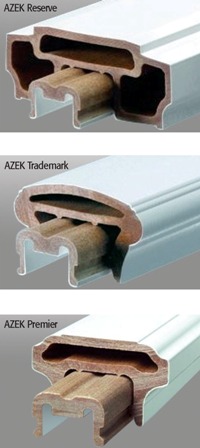 Kuiken Brothers is currently stocking the AZEK Premier Railing line and can provide you with the AZEK Reserve and AZEK Trademark railing lines with very short lead times.
AZEK Premier Rail is a classic Victorian style railing available in six popular colors to complement all housing styles and deck colors. Raiil Colors include:
– White (in-stock)
– Brownstone (complements AZEK Deck)
– Clay (complements AZEK Deck)
– Slate Gray (complements AZEK Deck)
– Black
– Kona
AZEK Trademark Rail, a versatile Colonial style available in White, works well with any housing style.
AZEK Reserve Rail, available in White, is a generously sized railing offering a luxurious look and feel.
If you would like more information on the AZEK Rail product line, please fill out the Kuiken Brothers Quote Request form and be sure to mention AZEK Rail in the comments/ questions field. A Kuiken Brothers representative will follow up with you right away.