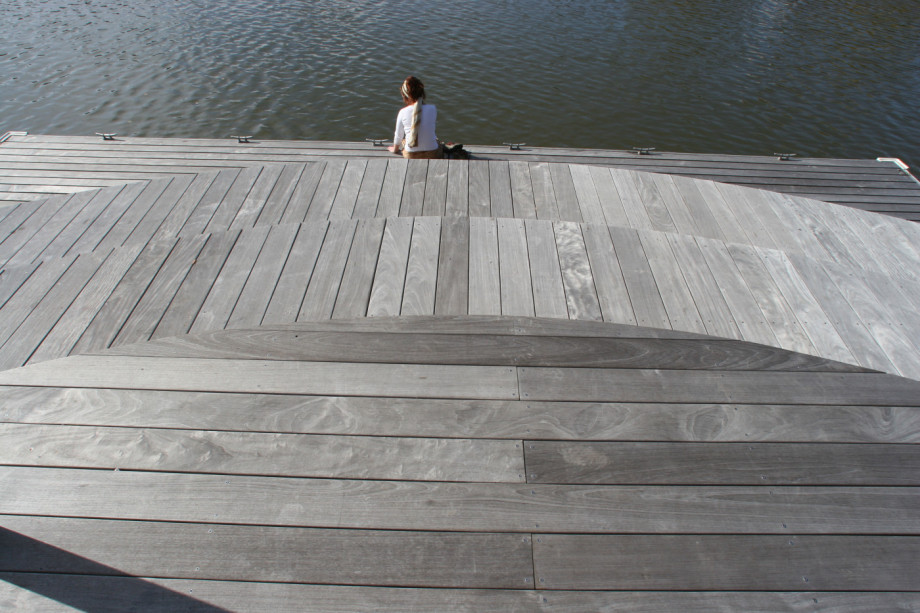 Iron Woods Garapa Gold is the best lower-cost alternative to Iron Woods Ipe decking. A durable, scratch-resistant, and low-maintenance hardwood, Garapa is virtually indistinguishable from Ipe when left to weather to a natural silvery-gray patina.  And unlike composite decking, Iron Woods can always be restored to its original appearance, because the wood's natural beauty runs through and through.
Garapa is beautiful. Garapa Gold features a rich honey golden-brown color range that will be the highlight of any landscape. For long-lasting durability, Iron Woods only uses 100% Clear All-Heart Garapa, without any of the unsightly knot or sapwood streaks used by other suppliers. What you get with Iron Woods Garapa Gold is gorgeous wood with attractive grain patterns, nothing less.
Kuiken Brothers currently stocks Garapa Gold in 5/4×6 in grooved and solid edge.
Download Iron Woods Garapa Gold Line Card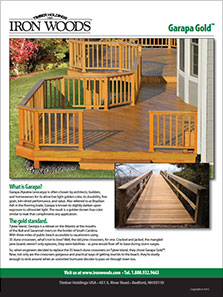 Garapa, like any other species of wood, is produced to different grade and quality standards. In the absence of official grading
rules for hardwood decking, Iron Woods by Timber Holdings set its own standards over 40 years ago. Consumers, Architects and Building professionals recognize the Iron Woods Premium Select Architectural Grade as the benchmark for quality and consistency.
Other Iron Woods Product Options (short lead time)
If you are interested in Iron Woods Ipe or Iron Woods Garapa Gold for an upcoming project, feel free to give us a call at 201-652-1000 or fill out our online Contact Us Form (make sure you reference Iron Woods in the Comments/Questions field) and one of our sales representatives will follow up with you right away.