As we discussed last week, the Marvin Ultimate Double Hung Insert window is one of the finest replacement windows you can purchase. However, if your budget is a little tighter, but you still want a quality Marvin replacement solution, why not try the Marvin Tilt Pac Replacement System?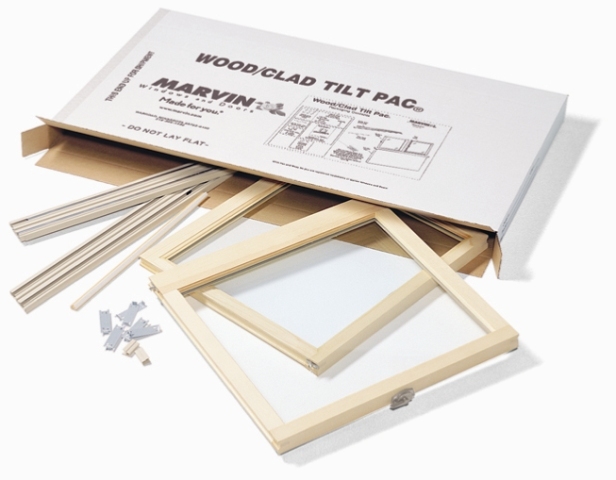 I have installed these Tilt Pacs several times and they are a very convenient and efficient way to upgrade the glass performance of your current windows and replace old, rotting window sash.
The Marvin Tilt Pac replacement system includes two new sash, two new jamb liners that will convert your existing double hung window into an easy to clean tilt in sash window. The kit also includes new locking hardware and any of the following options:
Clad or wood exterior because sometimes you want to maintain the authenticity of your historic home
Removable grilles, Simulated Divided light grilles or Authentic Divided Light grilles for historic replication. All available in standard or custom patterns.
Standard or Custom sizes available for a great fit into your existing frames
Magnum sizes available for those unusually large older openings

If you are an installer, I can tell you from my previous life experience that the Marvin Tilt Pacs install quickly. My crew installed 25 in one day on a job that I had figured would take two full days. We all could use a few more pleasant surprises like that.
If you are a homeowner, the Marvin Tilt Pacs are a great way to upgrade your existing windows without a complete window out-window in job. You do need to be aware though that if your existing frames are not in good shape or are really out of square, you might need to consider the Marvin Ultimate Insert Window that we discussed last week.
In either case, Marvin Windows has great options for window replacement solutions and if you want to learn more, please feel free to contact me at dhughes@kuikenbrothers.com or directly at (201) 705-5352.
Next week, we'll look into other great window replacement choices carried at Kuiken Brothers.