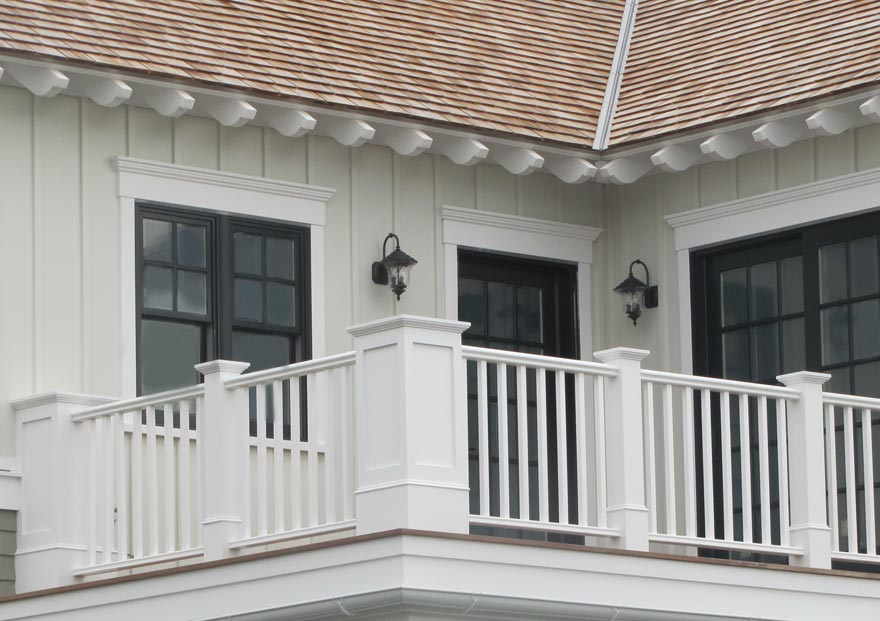 Kuiken Brothers is pleased to announce that we are now stocking suppliers of the renowned Intex Hampton and Liberty aluminum reinforced Railing System.  In addition, due to our stocking position we are now able to offer a competitive pricing advantage for their premium Nautilus and Dartmouth Railing options and any additional custom PVC millwork including gooseneck rail, decorative panels, radius rail brackets, pergolas, gutters and more..
Let's take a closer look at the Hampton Railing System.
The Hampton Extruded Rail System is an economical rail solution with performance superior to composite railing. This rail system is available in 6, 8 and 10 foot lengths for level & radius rail runs, and 6 & 8 foot lengths for stairway applications.
Additional Features & Benefits of Intex Hampton Railing System
Matte Finish – 100% Extruded Cellular PVC with Aluminum Reinforced Core
Flat and Peaked 3-1/2″ Rail Widths
Commercial Code Approved Spans Up To 10 Feet
Hidden Stainless Steel Fasteners
1-1/4″ Square Edge Balusters and Square Edge Posts
5″ Standard Newel Cover, 6″, 8″, 10″ and 12″ Optional
Solid PVC Flat & Pyramid Newel Caps, Injection Molded Cap Optional
Does Not Require Paint, But Can Be Painted (LRV >55)
If you are interested in using Intex Millwork Railling in an upcoming project, please feel free to give us a call at (201) 652-1000 or fill out the Contact Us Form and one of our sales representatives will follow up with you right away. Be sure to add some additional details about your project in the comments/questions box. Whether you are a new customer, or one of our life-long customers, we look forward to working with you!